When Karen Baker became the new Chief Executive Officer of the Pennsylvania Coalition Against Rape on March 1 2018, she set a goal to visit each rape crisis center in the Commonwealth to learn more their communities and the unique work being done at each location.
Over the next several months, we will highlight where Karen has been and what she is learning at each center.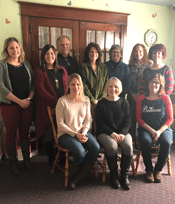 Citizens Against Physical, Sexual, and Emotional Abuse
Elk and Cameron Counties
Karen wrapped up her 2018 tour of centers with a visit to Citizens Against Physical, Sexual, & Emotional Abuse (CAPSEA) serving Elk and Cameron counties on December 19.  They are a comprehensive center with 13 cross-trained staff providing a variety of services to the community including advocacy, counseling, shelter, legal services and a donation center.  They do a lot of work in the local schools and work with other service providers in and around the two counties. Executive Director, Joanne (Billie Jo) Weyant, is trained in Traumatic Incident Reduction (TIR) and was instrumental in organizing the Pennsylvania Local Group of TIR facilitators. In October 2018, this group officially became the first recognized local group in North America.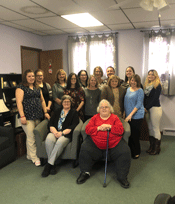 Victim Services, Inc.
Cambria and Somerset Counties
Karen visited Victim Services, Inc. serving Cambria and Somerset Counties on December 17. They are in a strong growth period – significantly increasing their budget and staff during the last few years. Even more importantly, they are serving many more victims, and many more types of victims than previously.   They have grown in all areas – counseling, outreach, grant writing, and more.  They enjoy strong relationships with key community partners such as schools, CAC's, police, SART Teams, District Attorney, and prisons. They have also made improvements to office locations in both counties. The entire team is very upbeat, motivated, and passionate about all the ways they are helping people and strengthening the communities they serve.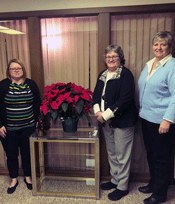 PASSAGES
Clarion, Jefferson and Clearfield Counties
Karen visited Passages on December 3. With Executive Director, Marlene Austin and Legal Advocate, Robin McMillen as tour guides, they visited the programs in Clarion, Jefferson, and Clearfield counties.  Passages is expanding to meet the needs of the communities they serve. They offer services to children, teens, and adults in a variety of settings as well as prevention programs. They have an excellent and cohesive staff and maintain strong relationships with community partners. After visiting the three Passages offices, we toured the Clearfield County CAC and met with their staff and District Attorney, William Shaw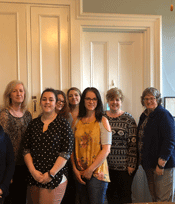 Abuse and Rape Crisis Center
Bradford County
Karen Baker visited the Abuse and Rape Crisis Center in Bradford County on November 14.  They provide counseling, advocacy and accompaniment, support groups, trauma therapy for adults and children, emergency safe housing, systems advocacy, violence prevention programs, and community education and awareness.  They are growing, remodeling the center, and adding staff. Recently, they received grants to provide suicide prevention training and Strengthening Families program.  The Abuse and Rape Crisis Center will soon be celebrating its 40th Anniversary.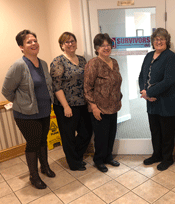 Survivors Inc.
Adams County
Karen visited Survivors Inc. in Adams County on November 9. They provide a variety of critical services for sexual assault and domestic violence victims and families throughout the county. They have seen a marked increase in the number of survivors seeking sexual assault services of late - partly due to local and national events in the news; and also due to the ongoing community outreach and education of their three-person prevention team. Survivors Inc. also provides therapy for both adults and children; and opened a legal center, staffed by two attorneys, a paralegal, and a legal advocate.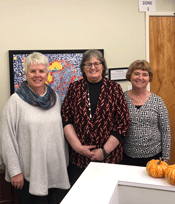 Blackburn Center
Westmoreland County
Karen Baker visited the Blackburn Center in Westmoreland County on November 8. She met staff, visited with Executive Director, Ann Emmerling, and toured the Center which is co-located with other social service agencies. The Blackburn Center is very well respected in the community and provides a wide variety of comprehensive services to survivors and families; and strong advocacy on their behalf. They provide an increasing amount of prevention education to community groups and have especially strong partnerships with local Universities.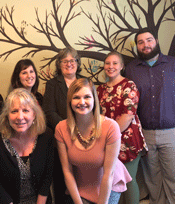 HAVEN
Tioga County
Karen visited HAVEN of Tioga County on November 7. They have offices in three locations within the county, including one at Mansfield University, where they have a strong partnership. They provide a variety of services throughout the county including advocacy, counseling, prevention education, and legal services. The main office is warm and artistic and the staff spend time together each week sharing a meal, an audio book, or a hike. I enjoyed the home-made soup and cake, as well as conversation, during my visit.
.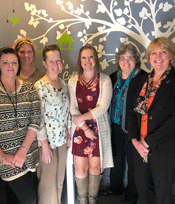 Helping All Victims in Need (HAVIN)
Armstrong County
Karen visited Helping All Victims In Need (HAVIN) in Armstrong County on October 30. They are located in an historic home and have a wonderful photo of Suffragettes marching in front of it in the early 1900's.  HAVIN provides many excellent services to the community including counseling and advocacy, support groups, education, a co-ed shelter, and expert court testimony. They are one of only two centers in the state to house a Child Advocacy Center (CAC) and also manage a large thrift shop in town. 
.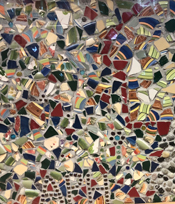 Alice Paul House
Indiana County
Karen visited the Alice Paul House in Indiana County on October 12. This center provides comprehensive services and is well-respected in the community. They have an exceptionally dedicated and talented staff that is cross-trained for sustainability and flexibility. Their offices are in a temporary location downtown while they are preparing to break ground on a brand new building in the spring. The staff at Alice Paul House are led by Executive Director Audia Boyle who recently joined the PCAR Board of Directors. The photo is of a beautiful mosaic in the front lobby symbolizing the beauty and reorganization that can come from broken pieces.
For more information about the Alice Paul House, visit alicepaulhouse.org.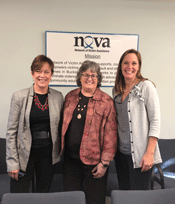 Network of Victim Assistance
Bucks County
Karen visited Network of Victim Assistance (NOVA) in Bucks County on September 22  and toured their Jamison office.  NOVA offers a wide array of creative programs and activities for all age groups. In addition to counseling, advocacy, and prevention services in three locations in the county, they also coordinate the forensic nurse program for local hospitals and manage the Child Advocacy Center functions for the county.   
For more information about NOVA, visit https://www.novabucks.org.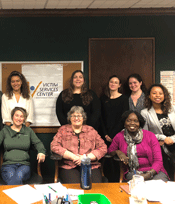 Victim Services Center of Montgomery Co., Inc.
Montgomery County
Karen traveled to Victim Services Center of Montgomery County, Inc. on September 22. When she participated in the center's full-staff meeting. She learned more about the center's many services and prevention programs;  and their work with numerous  schools, hospitals, and law enforcement organizations in the county. The center manages a robust volunteer program and organized 31 community events last year. VSC recently was selected to be the recipients of a matching endowment fund program that raised over $100,000.
For more information about Victim Services Center of Montgomery Co., Inc., visit http://www.victimservicescenter.org/.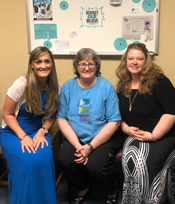 SPHS Center STTARS Program
Washington and Greene counties
On June 29, Karen visited SPHS Center STTARS Program serving Washington and Greene Counties. She met with Joanna, Kellie, Rachel, Kristen, and Haley. Their program is part of a larger healthcare, behavioral health, and social service provider network that meets the needs of clients in a holistic and integrated way. They have recently developed a program serving individuals with Intellectual and Developmental Disabilities. Even with limited resources, the staff successfully balances multiple demands including advocacy, services, funding, reporting, and community outreach.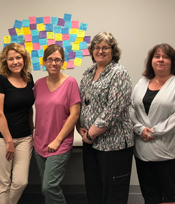 Crime Victims Council of Lehigh Valley, Inc.
Lehigh County
Karen learned about the community outreach efforts taking place at Crime Victims Council of Lehigh Valley, Inc. during her visit on May 30. Executive Director Suzanne Beck highlighted a fundraising campaign CVC organizes in which the staff sells roses at area college graduations. They will hold a conference on Human Trafficking on June 27.
For more information about the Crime Victims Council of Lehigh Valley, visit cvclv.org.
Women's Resources of Monroe County, Inc.
Monroe County
Karen traveled to the Delaware Water Gap on May 30 to meet with Women's Resources of Monroe County, Inc.'s Executive Director, Lauren Peterson. Peterson, a member of the PCAR Board of Directors provided a tour of the center's office and shelter which were designed and furnished with a trauma-informed perspective. Staff at the center also highlighted the community support they receive for their events throughout the year.
For more information about Women's Resources of Monroe County, Inc., visit www.wrmonroe.org.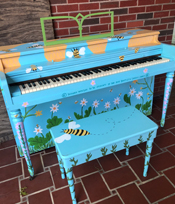 YWCA Lancaster
Lancaster County
Karen continued her PA center visits on May 23 with a stop in downtown Lancaster where she met YWCA Lancaster staff to learn about some of their great initiatives such as adding a sexual assault counseling center and creating affordable housing units. The center recently hosted their 20th Race Against Racism, and they organize the Keys for the City program which places decorated outdoor pianos throughout the city.
For more information about YWCA Lancaster, visit ywcalancaster.org.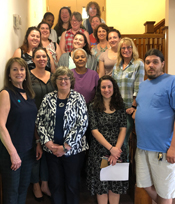 Transitions of PA
Union, Snyder, and Northumberland counties
Transitions of PA hosted Karen on May 4. She met with Executive Director and PCAR Board Member Susan Mathias and participated in the center's staff meeting. She also learned about a number of the center's projects including their expansion into new office space and their partnership with Susquehanna University as part of an Office on Violence Against Women Campus Grant.
For more information about Transitions of PA, visit www.transitionsofpa.org.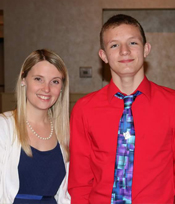 Crime Victim Center of Erie County, Inc.
Erie County
Karen visited Crime Victim Center of Erie County on April 26-27, attending the center's annual Speaker Series which featured Tommy Williams and Erin Merryn. She also participated in the center's annual conference making the opening remarks and met with community leaders including board members, the Chief of Police Dan Spizarny, District Attorney John Flynn and Senator Daniel Laughlin at a special reception following the conference.
For more information about Crime Victim Center of Erie County, visit www.cvcerie.org.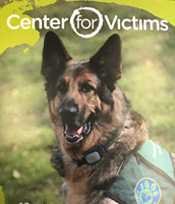 Center for Victims
Allegheny County
Karen recently traveled to Center for Victims in Pittsburgh, PA where she met with Laurie McDonald, CEO, Tracey Provident, Chief Program Officer, as well as other senior staff. She learned about their innovative counseling, soon-to-open interactive trauma exhibit and their canine advocacy programs.
For more information about Center for Victims, visit www.centerforvictims.org.
Women's Services, Inc.
Crawford County
While visiting with staff from Women's Services, Inc. on April 20, Karen learned about the staff's involvement in the local school districts at all grade levels and the work the center is doing in prisons.
For more information about Women's Resources, Inc., visit www.womensservicesinc.com.